Avanti!
Welcome to IMPDb!

Dedicated to identifying aircraft throughout Movies, Television, and Video Games!






Hello!
This site is currently in read-only mode as we are performing a bit of server maintenance. Please note you may see intermittent issues while we work, and we appreciate your patience and understanding.
Tobin, Rush
From The Internet Movie Plane Database
Error creating thumbnail: Unable to save thumbnail to destination
Movie (1972)
Starring:
Jack Lemmon (Wendell Armbruster, Jr.)
Juliet Mills (Pamela Piggott)
Clive Revill (Carlo Carlucci)
Edward Andrews (J.J. Blodgett)

A successful businessman goes to Italy to arrange for the return of his tycoon-father's body only to discover dad died with his mistress of long standing.
Registration I-PIAL, c/n 504.
Various Airliners
Rome Fiumicino Airport.
Unidentifiable aircraft in the far background. In the foreground left is a Boeing 707-328 of Air France, and Douglas DC-8-53 of Swissair just behind. On the right, a Douglas DC-8-63CF of Loftleiðir-Icelandic Airlines, followed by another Douglas DC-8-63 of SAS-Scandinavian Airlines System, and a Boeing 747-237B of Air India.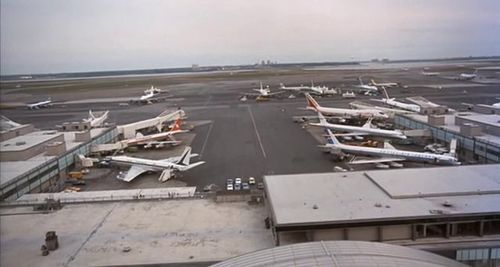 Back To:

See also