Category:Bell 429 GlobalRanger
Welcome to IMPDb!

Dedicated to identifying aircraft throughout Movies, Television, and Video Games!






Dear Friends:

As many of you have noticed, The Internet Movie Plan Database (impdb.org) has recently had a hard time keeping up with the growing demands of our users. In 2009 when a couple of us got together to begin putting the website together, space was never an issue. In fact, it has steadily grown with virtually no problems throughout the years.

In about the middle of 2016 we began to run into server space issues. We have since made upgrades (moving to a VPS, buying more space, etc), but the site continues to outgrow the upgrades. The meager ad revenue generated by the site isn't sufficient to cover the annual cost of running the server. We who manage the site have never made money from it, it has only ever earned enough money to cover actual server costs.

In an effort to continue serving the needs of aviation enthusiasts around the world, we are asking for donations to keep this site up and running consistently like it did when it was a smaller, newer site. If you've enjoyed this website and would like to see it continue being the site you go to for your aviation screenshot needs, please consider donating.



Oh yeah, new users and edits are now active (hopefully for good) while we're testing new and improved spam/bot protections :)

Thank you,

IMPDb Staff
From The Internet Movie Plane Database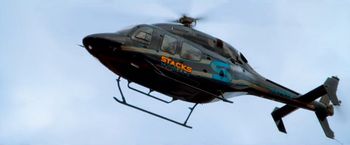 The Bell 429 GlobalRanger is a light, twin-engine helicopter developed by Bell Helicopter and Korea Aerospace Industries, based on the Bell 427. First flight of the Bell 429 prototype took place on February 27, 2007 and the aircraft received type certification on July 1, 2009. The impetus for developing the Bell 429 came primarily from the emergency medical services (EMS) industry, which was looking for an updated helicopter. The Bell 427 was originally intended to address this market, but the 427's small cabin size would not adequately accommodate a patient litter, and the systems did not support instrument flight rules (IFR) certification.
This page lists all films that feature a variation of the Bell 429 GlobalRanger.
See also
Pages in category "Bell 429 GlobalRanger"
The following 6 pages are in this category, out of 6 total.