Ironiya sudby, ili S legkim parom!
Welcome to IMPDb!

Dedicated to identifying aircraft throughout Movies, Television, and Video Games!






Hello!
This site is currently in read-only mode as we are performing a bit of server maintenance. Please note you may see intermittent issues while we work, and we appreciate your patience and understanding.
Tobin, Rush
From The Internet Movie Plane Database
Error creating thumbnail: Unable to save thumbnail to destination
Movie (1976)
Russian title: Ирония судьбы, или С лёгким паром!
English title: The Irony of Fate, or Enjoy Your Bath!
French title : L'ironie du sort

Starring:
Andrey Myagkov (Zhenya Lukashin)
Barbara Brylska (Nadya Shevelyova)
Yuri Yakovlev (Ippolit)
Aleksandr Shirvindt (Pavlik)
Georgi Burkov (Misha)
Aleksandr Belyavskiy (Sasha)
Lyubov Dobrzhanskaya (Marina Lukashina, Zhenya's mother)
Olga Naumenko (Galya, Zhenya's fiancee)
Valentina Talyzina (Valya)
Liya Akhedzhakova (Tanya)
Lyubov Sokolova (Olga Shevelyova, Nadya's mother)
On the last day of the year a 36-year-old, soon to get married Soviet doctor Zhenya Lukashin goes to public bathhouse with his friends, where they heavily drink. They subsequently go to airport, as one of them has to leave for Leningrad. However, due to all of them being drunk, Zhenya accidentally gets sent to Leningrad instead of his friend. He wakes up without realizing he's now in a different city, and his life is about to take a very unexpected turn.
A Tu-114 is seen in front of old Moscow Domodedovo Airport terminal, where Moscow airport scene was filmed. This is a factual mistake, as in Soviet times there were no flights to Leningrad from this airport.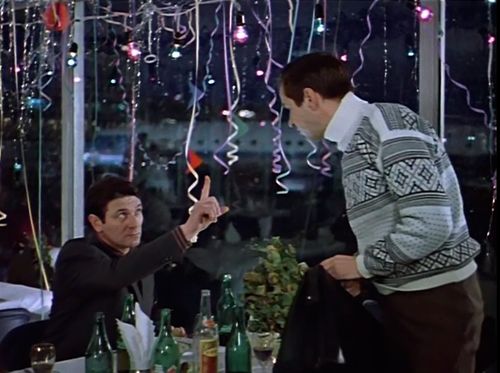 Lukashin en route to Leningrad falls asleep on his fellow passenger (played by director Eldar Ryazanov). This scene was also filmed inside Tu-114.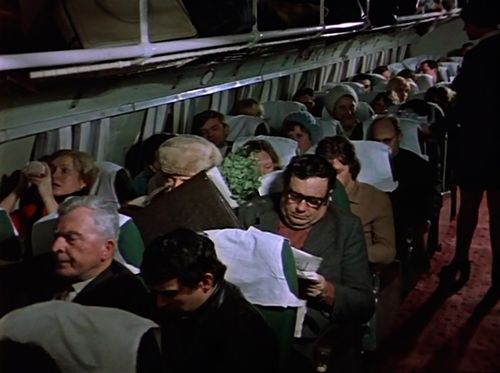 However, when his flight is shown outside, it's a Tu-134. A scale mockup was used to film the scene.
A real Tu-134 is then shown landing.
Passengers are exiting the airplane in Pulkovo. A Tu-134 reg. CCCP-65611 (s/n 7350204) is seen behind. To the left of it, a tail of Tupolev Tu-104 is also visible.
Couple seconds later, a tail of another Tu-134 is behind the window.
Tu-134 far away in the upper right corner.
A parked Tu-104 engine #2 exhaust and right landing gear in front of Pulkovo Airport terminal.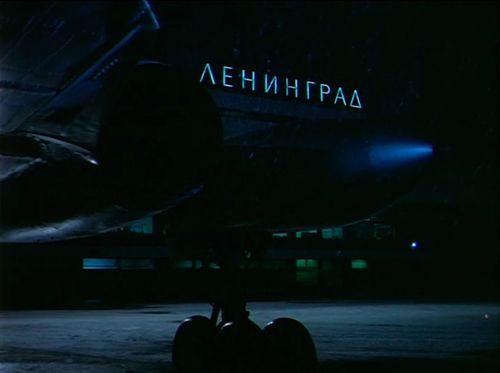 Lukashin finds a taxi. Tu-104B registered СССР-42448 (s/n 921005) is behind.
Same aircraft in other movies at IMPDb: Frequently Seen Aircraft (civil section).
A few Tupolev Tu-134 tails are too visible behind it.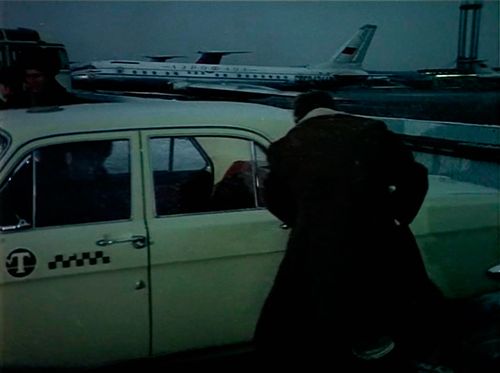 Back To:

See also