Paris chante toujours!
From The Internet Movie Plane Database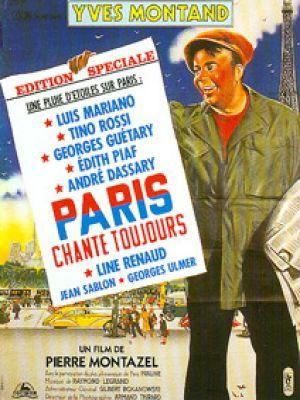 Movie (1951)
English title: Paris Still Sings!

Starring:
Les Compagnons de la Chanson (Themselves / En personne)
André Dassary (Himself / En personne)
Georges Guétary (Himself / En personne)
Luis Mariano (Himself / En personne)
Yves Montand (Himself / En personne)
Édith Piaf (Herself / En personne)


(Synopsis needed)
Unidentified airline company. This Constellation is carring Line Renaud singer, arriving at Paris Le-Bourget. But in the previous scene the Line Renaud's flight is in the SE 2010 Armagnac.
Piper PA-11 Cub Special
This is F-WAVA the prototype of SE 2010 Armagnac, with its pre-series Air France colours, during its first maiden flights in 1949. The aircraft crashed on 30 january 1950. Air France who had ordered 15 aircrafts cancelled this operation due to inadequate performances as long-flight carrier.
Same archive seen in Saluti e baci - IMPDb: Frequently Seen Aircraft.
Back To:

See also