Who'll Stop the Rain
From The Internet Movie Plane Database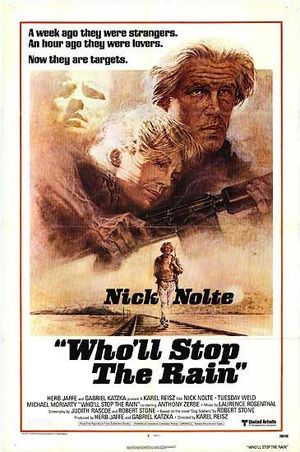 Movie (1978)

Starring:
Nick Nolte (Ray Hicks)
Tuesday Weld (Marge Converse)
Michael Moriarty (John Converse)
Anthony Zerbe (Antheil)
Richard Masur (Danskin)
Ray Sharkey (Smitty)

Vietnam veteran Ray Hicks gets conned into helping his buddy John Converse smuggle some heroin, only to wind up on the lam with John's wife when the deal goes sour.
Landing 707, airline to be identified for more detail about it.
Pretending being the same aircraft , but it's a TWA one, different from the other. Not sure it is a 707 though.
Featuring Vietnam scene, in flash back scenes of main character story.

Back To:

See also