Bye bye, Barbara
Jump to navigation
Jump to search
Movie (1969)
Starring:
Ewa Swann (Paula)
Philippe Avron (Jerôme Thomas)
Bruno Cremer (Hugo Michelli)
Alexandra Stewart (Eve Michelli)
Michel Duchaussoy (Dimitri)
Anny Duperey (Aglaé)

A journalist meets a pretty, young woman in Biarritz and they fall in love with each other. Once they have returned to Paris the woman disappears mysteriously.
Registration F-BGNU, c/n 38. Delivered to Air France in 1954, sold to Air Inter in 1963. Written off from use in 1975.
Mirror inversion.
Registration F-BNKI, c/n 214. Built in 1966 and leased to LTU as D-ABAM, then sold to Air Inter in 1968. Destroyed at Paris-Orly by fire for unknown reasons in 1971.
Another Viscount in the background.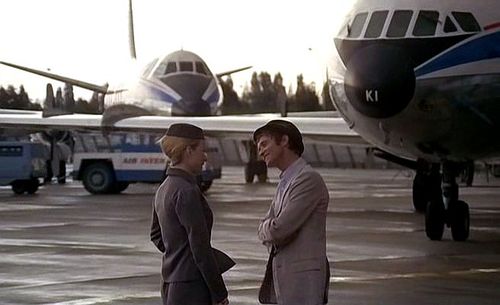 Back To:

See also