Category:Aerolíneas Argentinas
Jump to navigation
Jump to search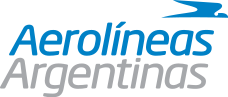 Aerolíneas Argentinas is Argentina's largest airline and serves as the country 's flag carrier. The airline was created in 1949 from the merger of four companies, and started operations in December 1950. Aerolíneas Argentinas and its sister company Austral Líneas Aéreas operates from two hubs, both located in Buenos Aires: Aeroparque Jorge Newbery and Ministro Pistarini International Airport. Aerolíneas has a fleet of Boeing 737-700s and -800s for serving domestic and regional routes, whereas intercontinental services are flown with Airbus A330s and -340s. SkyTeam membership was achieved in late August 2012; the airline's cargo division became a member of SkyTeam Cargo in November 2013.

This page lists all films, TV series, and video games that feature aircraft of Aerolíneas Argentinas.
See also
Pages in category "Aerolíneas Argentinas"
The following 52 pages are in this category, out of 52 total.