Category:Beriev A-50
Jump to navigation
Jump to search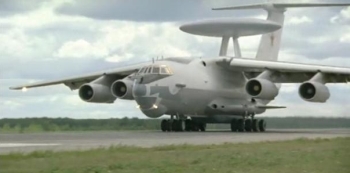 The Beriev A-50 is developed from the Ilyushin Il-76 to deal with airborne early warning (AEW) tasks. Like its counterpart the Boeing E-3 Sentry, it has a rotodome over the fuselage. But it has additional fairings on the bottom and rear fuselage. The A-50 first flew in 1978. It entered service in 1984 with the Russian Air Force and in 2009 with India Air Force. In 2017, a brand new variant (the A100LL) made its maiden flight without definitive specifications concerning the electronic. Introduction should be at mid 2020's.
Do not confuse with the Chinese KJ-2000 of similar shape but with indigenous electronics and radars (development program started after the cancellation of the A-50I deal with Russia).
Around 40 Beriev A-50 airframes have been built.
This page lists all films that feature a variation of the Beriev A-50.
See also
Pages in category "Beriev A-50"
The following 4 pages are in this category, out of 4 total.