Category:Boeing 707
Jump to navigation
Jump to search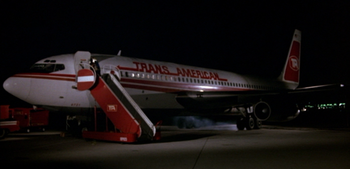 The Boeing 707 was the pioneering plane of the Jet Age. It first entered service in 1958 and over 1,000 were subsequently built. As well as seeing sustained commercial service, the 707 was developed into many military and government variants. Although very similar, the KC-135, used predominantly by the U.S. Air Force, is not based on the 707 but developed parallel to it from its prototype, the Boeing 367-80.

Boeing also decided to develop a 707 derivative with increased performance for short-to-medium range routes, the Boeing 720, allowing the plane to operate from shorter runways. Only about 150 of these versions were built, due to the development of the Boeing 727, a more capable aircraft in the medium-range, high-performance market.
This page lists all the films which feature a variation of the Boeing 707.
See also