Category:Boeing KC-135 Stratotanker
Jump to navigation
Jump to search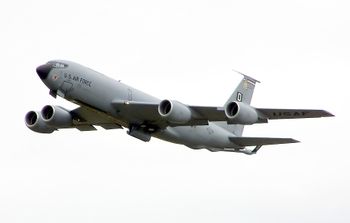 The Boeing KC-135 Stratotanker is a military aerial refueling aircraft. It and the Boeing 707 airliner were developed from the Boeing 367-80 prototype. The KC-135 was the US Air Force's first jet-powered refueling tanker and replaced the KC-97 Stratotanker. A re-engining programm was made in the 1980's with the Pratt & Whitney TF-33-PW-102 and the Franco-American CFM56 turbofans.
This page lists all films that feature a variation of the Boeing KC-135 Stratotanker.
See also
Pages in category "Boeing KC-135 Stratotanker"
The following 29 pages are in this category, out of 29 total.