Category:Canadair CT-114 Tutor
Jump to navigation
Jump to search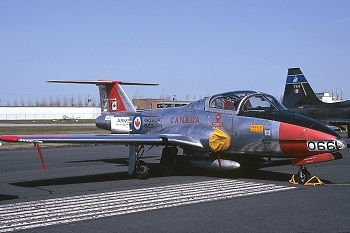 The Canadair CT-114 Tutor (company model CL-41) was the Royal Canadian Air Force (RCAF), and later Canadian Forces, standard jet trainer, between the early 1960s and 2000. Designed and built by Canadair, it was ordered in September 1961. The Tutor served as the Canadian Forces primary jet trainer until it was replaced by the CT-155 Hawk and CT-156 Harvard II in 2000. The CL-41G model supplied to Malaysia was built as a ground-attack aircraft. The Tutor is currently still used by the Snowbirds aerobatics team.
The CL-41 design was the product of the Canadair Preliminary Design department. The design incorporated a turbojet-powered, low-wing aircraft with a tricycle undercarriage and a T-type tail assembly. The flying controls are manual with spring tabs. The cabin, fitted with a rear-hinged canopy for both crew members, can be pressurized to a differential of 3 psi (20 kPa), the equivalent of about 2,000 m of altitude. It was designed to be a side-by-side trainer for providing elementary jet flight training and other training to an advanced level. The prototype first flew on 13 January 1960. A total of 212.
This page contains all films, TV series, and video games that feature the Canadair CT-114 Tutor.
See also
Pages in category "Canadair CT-114 Tutor"
The following 3 pages are in this category, out of 3 total.