Category:Cessna Skymaster
Jump to navigation
Jump to search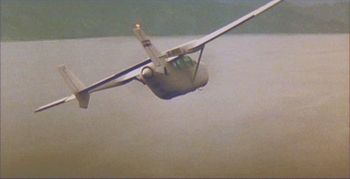 The Cessna Skymaster is twin-engine civil utility aircraft built in a push-pull configuration. Its engines are mounted in the nose and rear of its pod-style fuselage. The first Skymaster, model 336, had fixed landing gear and first flew on February 28, 1961. It went into production in May 1963, and 195 were produced through mid 1964. In February 1965 Cessna introduced the model 337 Super Skymaster. The model was larger, and had more powerful engines, retractable landing gear, and a dorsal air scoop for the rear engine ("Super" was subsequently dropped from the name). In 1966 the turbocharged T337 was introduced, and in 1973 the pressurized P337G entered production.Cessna built 2993 Skymasters of all variants, including 513 military O-2 versions. Production in America ended in 1982 but continued with Reims Aviation in France with the FTB337 STOL and the military FTMA Milirole. Production totalled 94 units.

This page lists all films that feature the Cessna Skymaster.
See also
Pages in category "Cessna Skymaster"
The following 20 pages are in this category, out of 20 total.