Category:Convair 240/340/440
Jump to navigation
Jump to search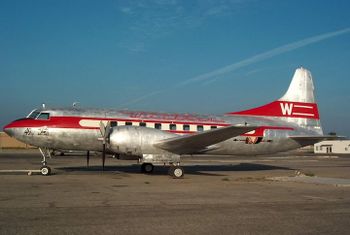 The Convair 240 was an American airliner produced by Convair from 1947 to 1954, initially as a possible replacement of the Douglas DC-3. While featuring a more modern design, the 240 series was able to make some inroads as a commercial airliner and also had a long development cycle which resulted in a number of civil and military variants: improved and lengthened versions Convair 340 and 440 Metropolitan, military transport Convair C-131 Samaritan and training aircraft T-29 Trainer.

Further development with turbo-propeller engines had been produced as Convair 540/580/600/640.

This page lists all films that feature a variation of piston-engines series Convair 240/340/440 Metropolitan.
See also
Pages in category "Convair 240/340/440"
The following 157 pages are in this category, out of 157 total.