Category:Dassault Mirage 2000
Jump to navigation
Jump to search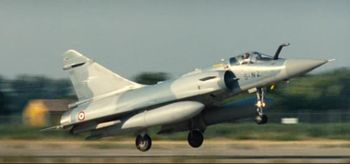 The Dassault Mirage 2000 is a French multirole, single-engine jet fighter. As well as being a successful multirole fighter, it was developed into nuclear and conventional strike variants as well as the improved 2000-5. Since 1978 over 600 have been produced for 9 customers.
This page lists all films that feature a variation of the Dassault Mirage 2000.
See also
Pages in category "Dassault Mirage 2000"
The following 25 pages are in this category, out of 25 total.