Category:Dassault Mystère IV
Jump to navigation
Jump to search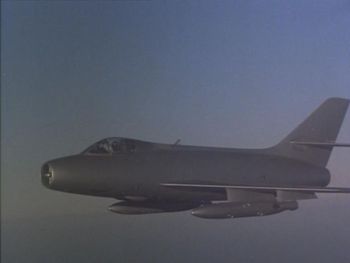 The Dassault MD.454 Mystère IV was a 1950s French fighter-bomber aircraft, the first transonic aircraft to enter service in French Air Force. It was an evolutionary development of the Mystère II aircraft. Although bearing an external resemblance to the earlier aircraft, the Mystère IV was in fact a new design with aerodynamic improvements for supersonic flight. The prototype first flew on 28 September 1952, and the aircraft entered service in April 1953. The first 50 Mystere IVA production aircraft were powered by British Rolls-Royce Tay turbojets, while the remainder had the French-built Hispano-Suiza Verdon 350 version of that engine.

This page lists all films that feature the Dassault Mystère IV.
See also
Pages in category "Dassault Mystère IV"
The following 13 pages are in this category, out of 13 total.