Category:EgyptAir
Jump to navigation
Jump to search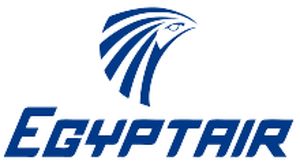 EgyptAir is the flag carrier airline of Egypt. The airline is based at Maṭār al-Qāhirah al-Duwaliyy/Cairo International Airport, its main hub, operating scheduled passenger and freight services to more than 75 destinations in the Middle East, Europe, Africa, Asia, and the Americas. Egyptair is a member of Star Alliance, having joined on 11 July 2008. The airline's logo is Horus, the sky deity in ancient Egyptian mythology, chosen because of its ancient symbolism as a "winged god of the sun", and usually depicted as a falcon or a man with the head of a falcon. The history of the company start in 1932 with Misr Airwork name, then Misrair in 1949, and United Arab Airlines in 1957.
This page lists all films, TV series, and video games that feature aircraft of EgyptAir.
See also
Subcategories
This category has the following 2 subcategories, out of 2 total.
Pages in category "EgyptAir"
The following 14 pages are in this category, out of 14 total.