Category:Eurocopter EC135
Jump to navigation
Jump to search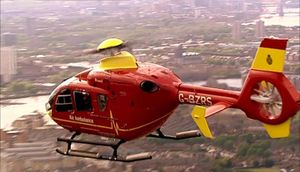 The Eurocopter EC135 is a twin engined light utility helicopter which has been widely used in police and air ambulance roles. It is the best selling light twin helicopter of recent years with over 800 having been delivered since the initial deliveries in 1996. A military variant named the EC635 has also been produced.
This page lists all films that feature a variation of the Eurocopter EC135
See also
Pages in category "Eurocopter EC135"
The following 77 pages are in this category, out of 77 total.