Category:Gloster Gladiator
Jump to navigation
Jump to search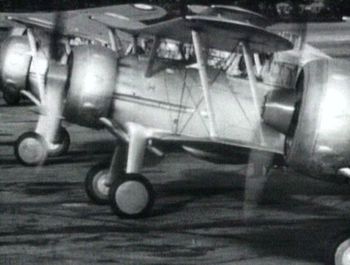 The Gloster Gladiator was the RAF's last biplane fighter aircraft, making its first flight on 12 September 1934. Powered by a single radial engine and armed with four machine guns, it was the first british fighter with an enclosed cockpit, and was exported to several countries including China, were it first met combat against Japan. At the outbreak of World War 2, the Gloster Gladiator was replaced in front line RAF service mainly by the Hawker Hurricane, but fought again in more peripheral campaigns during the two first years, having its climax in the skies of Malta. In Finland, its active duty was much longer, with its last air victory achived in February 1943. The very last one was withdrawn from use in 1953 in Portugal.
A hundred of them were built as Sea Gladiator for the need of the Royal Navy (Fleet Air Arm), with half of them still on strengh at the outbreak of war. A total of 747 Gloster Gladiator and Sea Gladiator were built.
This page lists all films that feature a variation of the Gloster Gladiator.
See also
Pages in category "Gloster Gladiator"
The following 9 pages are in this category, out of 9 total.