Category:Heinkel He 178
Jump to navigation
Jump to search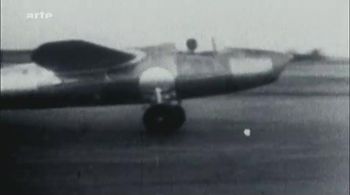 The Heinkel He 178 was a German experimental aircraft and the first in the world to fly powered only by a turbojet. The maiden flight occured on 27 August 1939 but with limited endurance, the aircraft did not catched up attention of Luftwaffe officials. Despite this, Ernst Heinkel convinced Hans von Ohain (the young engineer who had taken out a patent on turbojet) to designed a more powerful aircraft as a private venture which led to the Heinkel He 280, the first turbojet-powered fighter aircraft in the world (but the RLM eventually choose the Messerschmitt Me 262). The second prototype was never completed and the first one was put on display at the Berlin Aviation Museum, where it was destroyed in an air raid in 1943.
This page lists all films that feature the Heinkel He 178.
See also
Pages in category "Heinkel He 178"
The following 2 pages are in this category, out of 2 total.