Category:Hughes OH-6 Cayuse
Jump to navigation
Jump to search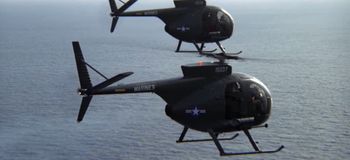 The Hughes OH-6 Cayuse is single-engined, light observation helicopter used by the U.S. Army. It can also be modified for transport, escort and attack missions. Hughes designated the aircraft the Model 369, whilst the Model 500 is a civilian development of the OH-6 that later became the Category:MD Helicopters MD 500. The MH-6 Little bird, and AH-6, are special operations versions of the OH-6, based on the more advanced civilian versions.
This page lists all films that feature a variation of the Hughes OH-6 Cayuse. For the civilian development, see Category:MD Helicopters MD 500.
See also
Pages in category "Hughes OH-6 Cayuse"
The following 56 pages are in this category, out of 56 total.