Category:Japan Airlines
Jump to navigation
Jump to search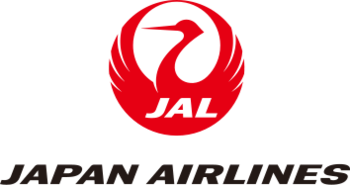 Japan Airlines Co., Ltd. (JAL) (日本航空株式会社 Nihon Kōkū Kabushiki-gaisha), is the flag carrier of Japan and the second largest airline in Japan. It is headquartered in Shinagawa, Tokyo, Japan; and its main hubs are Tokyo's Narita International Airport and Tokyo International Airport (Haneda Airport), as well as Osaka's Kansai International Airport and Osaka International Airport. JAL group companies include Japan Airlines, J-Air, JAL Express, Japan Air Commuter, Japan Transocean Air and Ryukyu Air Commuter for domestic feeder services; and JAL Cargo for cargo and mail services.
JAL group operations include scheduled and non-scheduled international and domestic passenger and cargo services to 220 destinations in 35 countries worldwide, including codeshares. The group has a fleet of 279 aircraft. In the fiscal year ended 31 March 2009, the airline group carried over 52 million passengers and over 1.1 million tons of cargo and mail. Japan Airlines, J-Air, JAL Express, and Japan Transocean Air are members of the Oneworld airline alliance.
JAL was established in 1951 and became the national airline of Japan in 1953. After over three decades of service and expansion, the airline was fully privatized in 1987. In 2002, the airline merged with Japan Air System, Japan's third-largest airline and became the sixth largest airline in the world by passengers carried. All Nippon Airways, the largest airline in Japan, is JAL's main competitor.
This page contains all films, TV series, and video games that feature aircraft of Japan Airlines.
See also
Subcategories
This category has only the following subcategory.
Pages in category "Japan Airlines"
The following 155 pages are in this category, out of 155 total.