Category:Kawasaki C-1
Jump to navigation
Jump to search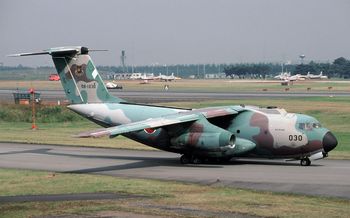 The Kawasaki C-1 is a twin-engined short-range military transport, used by the Japan Air Self-Defense Force (JASDF). Development began in 1966 as the JASDF sought to replace its aging World War II–era C-46 Commandos. Production commenced in 1971, and the aircraft remains in service as of 2016, though it will gradually be replaced by the longer-range Kawasaki C-2, deliveries of which began in 2014.
This page contains all films, TV series, and video games that feature the Kawasaki C-1.
See also
Pages in category "Kawasaki C-1"
The following 10 pages are in this category, out of 10 total.