Category:Lockheed Martin F-22 Raptor
Jump to navigation
Jump to search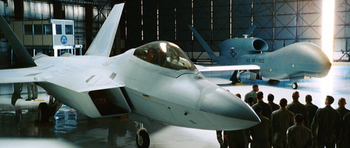 The Lockheed Martin F-22 Raptor is a fith-generation fighter aircraft utilising stealth technology. Its primary mission was air superiority, but has evolved into ground attack, electronic warfare and signal intelligence roles as well. Lockheed-Martin is the prime contractor for the aircraft however, Boeing also play a significant role. The aircraft entered service with the U.S. Air Force in December 2005 and over 150 have been produced.
This page lists all films that feature a variation of the Lockheed Martin F-22 Raptor.
See also
Pages in category "Lockheed Martin F-22 Raptor"
The following 52 pages are in this category, out of 52 total.