Category:Lockheed T-33 Shooting Star
Jump to navigation
Jump to search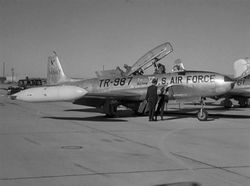 The Lockheed T-33 Shooting Star (or T-Bird) is a subsonic American jet trainer aircraft. It was produced by Lockheed and made its first flight in 1948. The T-33 was developed from the Lockheed P-80/F-80 Shooting Star by lengthening the fuselage by slightly over three feet and adding a second seat, instrumentation, and flight controls. It was initially designated as a variant of the P-80/F-80, as TP-80C/TF-80C in development, then designated T-33A. It was used by the U.S. Navy initially as TO-2 then TV-2, and after 1962, T-33B. The last operator of the T-33, the Bolivian Air Force, retired the type in July 2017, after 44 years of service in this country. When the production line was closed, 6,557 airframes have been built plus 150 SeaStars and 656 CT-133 Silver Star (Canadian variant powered by the Rolls-Royce Nene 10 turbojet, whereas the Lockheed production used the Allison J33).
This page lists all films that feature a variation of the Lockheed T-33 Shooting Star or T2V SeaStar or CT-133 Silver Star.
See also
Pages in category "Lockheed T-33 Shooting Star"
The following 60 pages are in this category, out of 60 total.