Category:McDonnell Douglas MD-80
Jump to navigation
Jump to search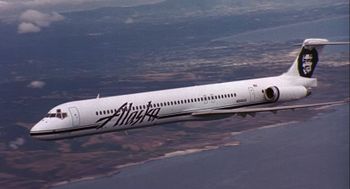 The McDonnell Douglas MD-80 is a series of twin-engines, medium-range, single-aisle jet airliners. They are essentially an improved version of the McDonnell Douglas DC-9, featuring most notably a lengthened fuselage and updated avionics. The series was produced in 5 different variants, however the MD-87 is the only one that has different external characteristics. The MD-80 series was produced from 1979 to 1999 when was replaced by the McDonnell Douglas MD-90 and Boeing 717.
This page lists all films that feature a variation of the McDonnell Douglas MD-80 to MD-88.
See also
Pages in category "McDonnell Douglas MD-80"
The following 131 pages are in this category, out of 131 total.