Category:McDonnell XF-85 Goblin
Jump to navigation
Jump to search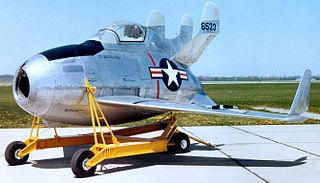 The McDonnell XF-85 Goblin was a parasite fighter intended to be loaded in the bomb bay of the future Convair B-36. This project of World War 2 led to a first flight on 23rd August 1948 but the program was canceled on 24 October 1949 after only seven flights. Progress in the air refuelling process and better performance of newest fighters and the increased skill required by the XF-85 gave it no chance of being a valuable escort fighter.
Only two McDonnell XF-85 Goblin have been built.
This page lists all the films that feature a variation of the McDonnell XF-85 Goblin.
See also
Pages in category "McDonnell XF-85 Goblin"
The following 3 pages are in this category, out of 3 total.