Category:Messerschmitt Bf 108 Taifun
Jump to navigation
Jump to search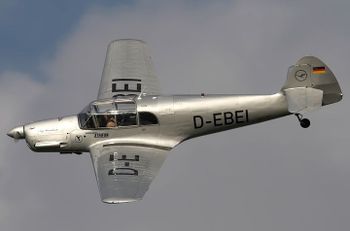 The Messerschmitt Bf 108 Taifun was a German single-engine sports and touring aircraft developed in the mid-30's. The Bf 108 was adopted into Luftwaffe service during World War II, where it was primarily used as a personnel transport and liaison aircraft. Production of the Bf 108 was transferred to occupied France during World War II and production continued after the war as the SNCAN (Nord) 1000 Pingouin.

The RAF impounded four Bf 108s on the outbreak of World War II and put them into service, where they were designated Messerschmitt Aldon. Post-war, 15 more captured Bf 108s flew in RAF colours.
This page lists all films that feature a variation of the Messerschmitt Bf 108 Taifun.
See also
Pages in category "Messerschmitt Bf 108 Taifun"
The following 19 pages are in this category, out of 19 total.