Category:Mitsubishi F-2
Jump to navigation
Jump to search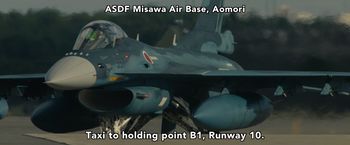 The Mitsubishi F-2 is a multirole fighter derived from the General Dynamics F-16 Fighting Falcon, and manufactured by Mitsubishi Heavy Industries and Lockheed Martin for the Japan Air Self-Defense Force, with a 60/40 split in manufacturing between Japan and the United States. Production started in 1996 and the first aircraft entered service in 2000. The first 76 aircraft entered service by 2008, with a total of 94 airframes produced. The first active electronically scanned array (AESA) radar on a combat aircraft was the J/APG-1 introduced on the Mitsubishi F-2 in 1995. The F-2 is nicknamed "Viper Zero", a reference to the F-16's semi-official nickname of "Viper" and the Mitsubishi A6M Zero.
This page contains all films, TV series, and video games that feature the Mitsubishi F-2.
See also
Pages in category "Mitsubishi F-2"
The following 10 pages are in this category, out of 10 total.