Category:NAMC YS-11
Jump to navigation
Jump to search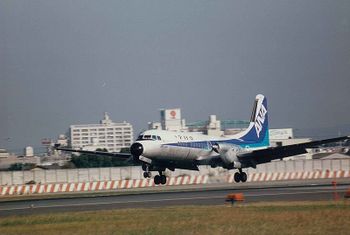 The NAMC YS-11 is a turboprop airliner built by a Japanese consortium, the Nihon Aircraft Manufacturing Corporation. The program was initiated by the Ministry of International Trade and Industry in 1954, the aircraft was rolled out in 1962, and production ceased in 1974. To date, the YS-11 is the only successful commercial aircraft to have been manufactured by a Japanese firm, either before or after World War II. 182 were produced in total, of which 82 were exported to 15 countries.
This page lists all films that feature the NAMC YS-11.
See also
Pages in category "NAMC YS-11"
The following 19 pages are in this category, out of 19 total.