Category:Nieuport 11
Jump to navigation
Jump to search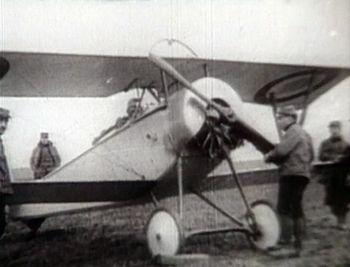 The Nieuport 11, often nicknamed the Bébé, was a French World War I single seat fighter aircraft, designed by Gustave Delage. It is famous as one of the aircraft that ended the 'Fokker Scourge' in 1916. The Nieuport 11 was basically a smaller, neater version of the Nieuport 10 - designed specifically as a single-seat fighter. Like the "10" the "11" was a sesquiplane, a biplane with a full-sized top wing with two spars, and a lower wing of much narrower chord and just one spar. A "Vee" interplane strut joined the monospar lower wing with the broader upper wing on each side. The main drawback of this particular layout is that unless it is very strongly built, the narrow lower wing is prone to twist and bend under stress. This was a problem with the higher powered "Vee-Strut" Nieuports, as well as the German Albatros D.III, V and Va, which adopted a generally similar wing design. Nieuport 11s were supplied to the Aéronautique Militaire, the Royal Naval Air Service, the Dutch air service, Belgium, Russia and Italy. 646 were produced by the Italian Macchi company under licence. Although its own operational career was short, it was the first in a line of single seat "Vee-Strut" Nieuport fighters - the most important being the Nieuport 17, 24bis. and 27.
This page lists all films that feature the Nieuport 11.
See also
Pages in category "Nieuport 11"
The following 7 pages are in this category, out of 7 total.