Category:Northrop Grumman RQ-4 Global Hawk
Jump to navigation
Jump to search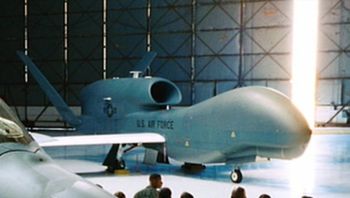 The Northrop Grumman RQ-4 Global Hawk is an unmanned aerial vehicle (UAV) surveillance aircraft. It was initially designed by Ryan Aeronautical (now part of Northrop Grumman), and known as Tier II+ during development. In role and operational design, the Global Hawk is similar to the venerable Lockheed U-2. The RQ-4 provides a broad overview and systematic surveillance using high resolution synthetic aperture radar (SAR) and long-range electro-optical/infrared (EO/IR) sensors with long loiter times over target areas. It can survey as much as 40,000 square miles (100,000 km2) of terrain a day. The Global Hawk is operated by the United States Air Force and U.S. Navy.
This page lists all films that feature the Northrop Grumman RQ-4 Global Hawk.
See also
Pages in category "Northrop Grumman RQ-4 Global Hawk"
The following 17 pages are in this category, out of 17 total.