Category:Northrop T-38 Talon
Jump to navigation
Jump to search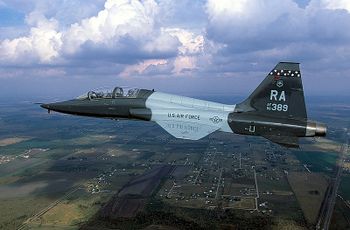 The Northrop T-38 Talon is a two seat supersonic jet trainer. It is used primarily by the United States Air Force as their primary jet trainer. The Northrop F-5 is a fighter version developed from the T-38.
This page lists all films that feature a variation of the Northrop T-38 Talon. For the fighter jet version, see Northrop F-5.
See also
Pages in category "Northrop T-38 Talon"
The following 38 pages are in this category, out of 38 total.