Category:Piedmont Airlines
Jump to navigation
Jump to search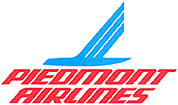 Piedmont Airlines was a major airline in the United States which operated from 1948 until it merged into USAir in 1989. The company was founded in 1940, by purchase of Camel City Flying Service which change to to Piedmont Aviation. Piedmont originally operated as an airplane repair service and a training school for pilots in the War Department Civilian Pilot Training Program. In 1944, the company started passenger flight service in the southeast, but received definitive authorization on January 1, 1948. The first flight, from Wilmington, North Carolina to Cincinnati, was on February 20, 1948. In August 1989, Piedmont Airlines was absorbed by USAir (formerly Allegheny Airlines), which had previously focused its route network around the northeastern states. The combined carrier became one of the East Coast's largest airlines. USAir subsequently changed its name to US Airways which then merged with America West Airlines in 2005. US Airways is currently in the process of being merged into American Airlines. Piedmont Airlines (formerly Henson Airlines) still exists as a brand within US Airways, and flies out of many locations doing business as US Airways Express.
This page lists all films, TV series, and video games that feature aircraft of Piedmont Airlines.
See also
Pages in category "Piedmont Airlines"
The following 7 pages are in this category, out of 7 total.