Category:Pilatus P-2
Jump to navigation
Jump to search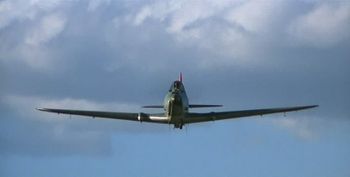 The Pilatus P-2 was a trainer aircraft designed in 1942 and first flown on April 27, 1945. It was used by the Swiss Air Force from 1946 until 1981. The P-2 was a low-wing monoplane of mixed construction (metal, wood and canvas) with a fully retractable tail wheel undercarriage and dual control tandem seating. To save cost several parts came from older Swiss AF machines, for example landing gear parts from their Messerschmitt Bf 109s. There were two series of production machines, one (P-2-05) unarmed and the second (P-2-06) equipped as armament trainers with a machine gun above the engine and wing racks for light bombs and rockets.After the end of their Swiss AF use, the survivors (about 48) were sold into civilian use. At least 23 appear in 2008 on the national registers of Switzerland, Germany, France, the U.K. and U.S.A. They proved to be a popular civil flyer's aeroplane and have often appeared in Luftwaffe garb in films and airshows as an unidentified "enemy" aircraft, since they arguably bear a resemblance to the German standard advanced trainer monoplane of World War II, the Arado Ar 96B, of which some 2,800 examples had been built by war's end.

This page lists all films that feature a variation of the Pilatus P-2.
See also
Pages in category "Pilatus P-2"
The following 8 pages are in this category, out of 8 total.