Category:Rockwell B-1 Lancer
Jump to navigation
Jump to search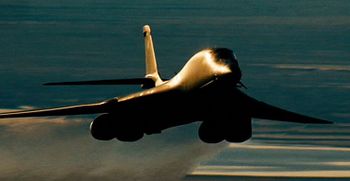 The Rockwell B-1 Lancer is a four-engine, variable-sweep wing strategic bomber used exclusively by the United States Air Force. Originally produced as the B-1A variant it underwent a significant redesign for low-level conventional bombing missions to become the B-1B of which 100 were produced between 1983 and 1988.
This page lists all films that feature a variation of the Rockwell B-1 Lancer.
See also
Pages in category "Rockwell B-1 Lancer"
The following 23 pages are in this category, out of 23 total.