Category:SEDAM N.300 Naviplane
Jump to navigation
Jump to search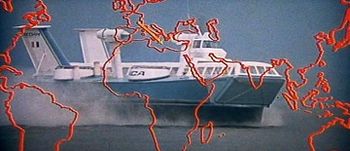 The SEDAM N.300 Naviplane was an air-cushion vehicle designed by SEDAM (Société d'Etude et de Développement des Aéroglisseurs Marins, a Bertin subsidiary founded in 1965). It was the first of the hovercraft think for commercial use with a capacity of 110 seats (the Saunders-Roe SR.N6 hovercraft has only a capacity of 38 seats).
This page lists all films that feature a variation of the SEDAM N.300 Naviplane.
See also
Pages in category "SEDAM N.300 Naviplane"
The following 2 pages are in this category, out of 2 total.