Category:SEPECAT Jaguar
Jump to navigation
Jump to search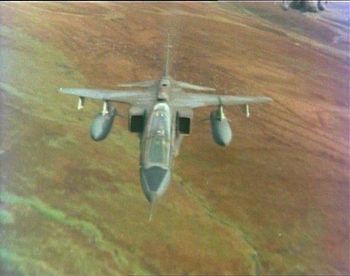 The SEPECAT Jaguar is an Anglo-French ground attack aircraft built by a joint venture between the British Aircraft Corporation and Breguet of France. Originally intended for light ground attack roles, the requirements were extended to supersonic performance, reconnaissance and nuclear strike capability. Initially built for the French and British forces, the Jaguar also had some success in export markets with the air forces of India and Oman amongst others ordering Jaguars. Britain and France retired the Jaguar in 2007 and 2005 respectively whilst India and the Oman continue to use theirs.
This page lists all films that feature a variation of the SEPECAT Jaguar.
See also
Pages in category "SEPECAT Jaguar"
The following 22 pages are in this category, out of 22 total.