Category:Saab 340
Jump to navigation
Jump to search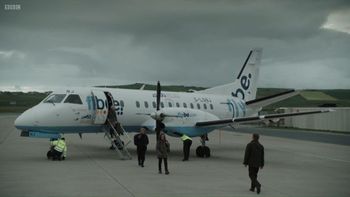 The Saab 340 is a discontinued Swedish two-engine turboprop aircraft designed and initially produced by a partnership between Saab AB and Fairchild Aircraft in a 65:35 ratio. Under the initial plan Saab built the all aluminium fuselage and vertical stabilizer, and also performed final assembly in Linköping, Sweden, while Fairchild was responsible for the wings, empennage, and wing-mounted nacelles for the two turboprop engines. After Fairchild ceased this work, production of these parts was shifted to Sweden. The aircraft first flew on 25 January 1983, but due to declining sales, production of the Saab 340 ended in 1998. Total of 459 aircraft has been built.
This page lists all films that feature the Saab 340.
See also
Pages in category "Saab 340"
The following 20 pages are in this category, out of 20 total.