Category:Saab JAS 39 Gripen
Jump to navigation
Jump to search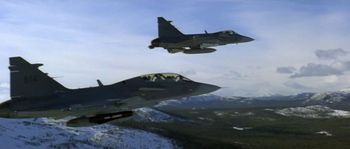 The Saab JAS 39 Gripen is a lightweight single-engine multirole fighter manufactured by the Swedish aerospace company Saab. It was designed to replace the Saab 35 Draken and 37 Viggen in the Swedish Air Force (Flygvapnet). The Griffin features delta wings and canards, a relaxed stability design and fly-by-wire technology. Saab has co-operated with other aerospace companies in marketing the aircraft internationally, and has achieved moderate success in Central Europe, South Africa and Southeast Asia. More than 264 Gripens have been delivered or ordered as of 2011.

This page lists all films that feature a variation of the Saab JAS 39 Gripen.
See also
Pages in category "Saab JAS 39 Gripen"
The following 16 pages are in this category, out of 16 total.