Category:Saturn IB
Jump to navigation
Jump to search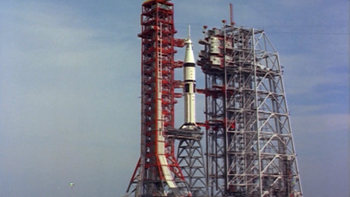 The Saturn IB (pronounced "one B", also known as the Uprated Saturn I) was an American launch vehicle commissioned by the National Aeronautics and Space Administration (NASA) for the Apollo program. It replaced the S-IV second stage of the Saturn I with the much more powerful S-IVB, able to launch a partially fueled Apollo Command/Service Module (CSM) or a fully fueled Lunar Module (LM) into low Earth orbit for early flight tests before the larger Saturn V needed for lunar flight was ready.
The Saturn IB launched two unmanned CSM suborbital flights, one unmanned LM orbital flight, and the first manned CSM orbital mission (first planned as Apollo 1, later flown as Apollo 7). It also launched one orbital mission, AS-203, without a payload so the S-IVB would have residual liquid hydrogen fuel. This mission supported the design of the restartable version of the S-IVB used in the Saturn V, by observing the behavior of the liquid hydrogen in weightlessness. In 1973, the year after the Apollo lunar program ended, three Apollo CSM/Saturn IBs ferried crews to the Skylab space station. In 1975, one last Apollo/Saturn IB launched the Apollo portion of the joint US-USSR Apollo Soyuz Test Project. A backup Apollo CSM/Saturn IB was assembled and made ready for a Skylab rescue mission but never flown.
This page contains all films, TV series, and video games that feature the Saturn IB.
See also
Pages in category "Saturn IB"
The following 5 pages are in this category, out of 5 total.