Category:Sikorsky CH-37 Mojave
Jump to navigation
Jump to search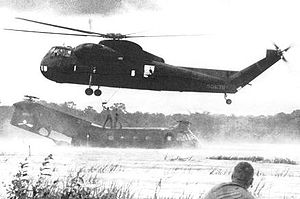 The Sikorsky CH-37 Mojave (company designation S-56) was a large heavy-lift helicopter by the standards of the 1950s. 154 aircraft built in use by the US Marines Corps and the US Army from 1956 till late 1960's. The CH-37 was one of the last heavy helicopters to use piston engines, which were larger, heavier and less powerful than the turboshafts subsequently employed. This accounted for the type's fairly short service life, all being withdrawn from service by the late 1960s, replaced in Army service by the distantly related Sikorsky CH-54 Tarhe and in the Marine Corps by the Sikorsky CH-53.
This page lists all films that feature the Sikorsky CH-37 Mojave.
See also
Pages in category "Sikorsky CH-37 Mojave"
The following 5 pages are in this category, out of 5 total.