Category:Sopwith Camel
Jump to navigation
Jump to search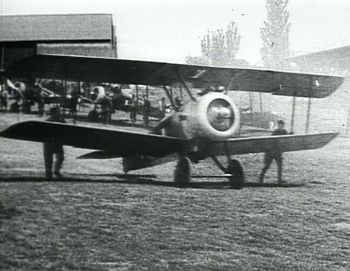 The Sopwith Camel was a British World War I single-seat biplane fighter introduced on the Western Front in 1917. Manufactured by Sopwith Aviation Company, it had a combination of a short-coupled fuselage, heavy, powerful rotary engine and concentrated fire from twin synchronized machine guns.
The Camel proved to be a superlative fighter, and offered heavier armament and better performance than the Pup and Triplane. In the hands of an experienced pilot, its manoeuvrability was unmatched by any contemporary type. Its controls were light and sensitive. Its agility in combat made it one of the best-remembered Allied aircraft of the First World War. More than 5000 aircrafts had been produced.

This page lists all films that feature a variation of the Sopwith Camel.
See also
Pages in category "Sopwith Camel"
The following 26 pages are in this category, out of 26 total.