Category:Stampe SV4
Jump to navigation
Jump to search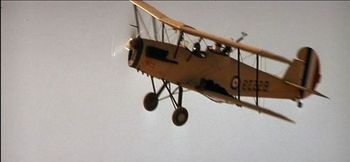 The Stampe SV4 is a two seat trainer/tourer biplane which first flew in 1933. The aircraft were built by Stampe et Vertongen in Belgium and used by the Belgium Air Force. A licenced SV.4C version was built in France by SNCAN (Société Nationale de Constructions Aéronautiques du Nord) and in Algeria by Atelier Industriel de l'Aéronautique d'Alger, the two firms completing a combined total of 940 aircrafts completing a hundred airframes built before the war in Belgium. The postwar SV.4Cs were widely used by French military units as a primary trainer. Many also served with aero clubs in France, numbers of which were later sold secondhand to the United Kingdom and other countries.
This page lists all films that feature a variation of the Stampe SV4.
See also
Pages in category "Stampe SV4"
The following 41 pages are in this category, out of 41 total.