Category:Sukhoi Su-30
Jump to navigation
Jump to search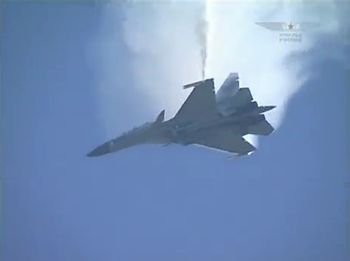 The Sukhoi Su-30 sub-family is a set of a twin-engine, two-seat supermaneuverable fighter aircraft including several variant designed to fullfil whishes of different Air Forces.
The Su-30MKK and the Su-30MK2, which were designed for and sold to China, and later Indonesia, Uganda, Venezuela, and Vietnam.
India ordered the multirole Su-30MKI ; its derivatives include the Su-30MKA (for Algeria), MKM (for Malaysia) and SM for Russia. These last ones have canards and should not be confused with the carrier capable single seat Sukhoi Su-33.

This page lists all films that feature the Sukhoi Su-30.
For other Sukhoi fourth-generation jet fighter, please use the dedicated category :
See also
Pages in category "Sukhoi Su-30"
The following 7 pages are in this category, out of 7 total.