Category:Sukhoi Su-35
Jump to navigation
Jump to search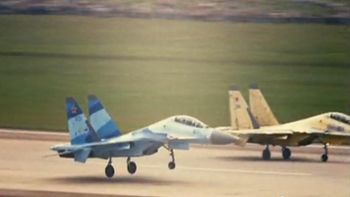 The Sukhoi Su-35 (NATO reporting name: Flanker-E) is, in actual fact, two heavily-upgraded but unrelated derivatives of the Sukhoi Su-27 'Flanker'. The Russian Air Force has so far ordered 48 production units, designated Su-35S, of the newly-revamped Su-35. Both Su-35 models have been offered to many countries, including Brazil, China, India and South Korea, but so far have not attracted any export order. Sukhoi originally projected that it would export more than 160 units of the second modernized Su-35 derivative worldwide.

This page lists all films that feature the Sukhoi Su-35.
For ...
See also
Pages in category "Sukhoi Su-35"
The following 7 pages are in this category, out of 7 total.