Category:Tupolev Tu-22M
Jump to navigation
Jump to search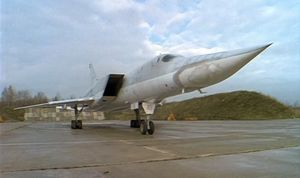 The Tupolev Tu-22M is a supersonic, swing-wing, long-range strategic and maritime strike bomber developed by the Tupolev Design Bureau. Significant numbers remain in service with the Russian Air Force.
This page lists all films that feature a variation of the Tupolev Tu-22M.
See also
Pages in category "Tupolev Tu-22M"
The following 8 pages are in this category, out of 8 total.