Category:Tupolev Tu-4
Jump to navigation
Jump to search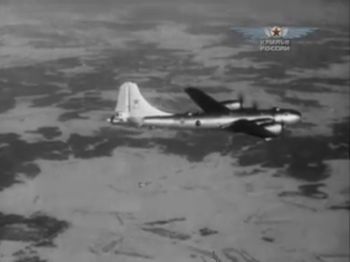 The Tupolev Tu-4 was a soviet bomber built by reverse ingineering from Boeing B-29 Superfortress which made emergency landings in Soviet territory. Alongside their main task of strategic bomber, several Tupolev Tu-4 were modified for transport tasks, anti-ship missile carrier (Tu-4K) or lots of trials. Another ten were sold to People's Republic of China. Some of them were later converted as Airborne Early Warning and Control aircraft and named KJ-1. These airframe with turboprop engines had a rotordome.
A total of 847 Tupolev Tu-4 airframes were built.
This page lists all films that feature a variation of the Tupolev Tu-4.
See also
Pages in category "Tupolev Tu-4"
The following 11 pages are in this category, out of 11 total.