Category:Vought F-8 Crusader
Jump to navigation
Jump to search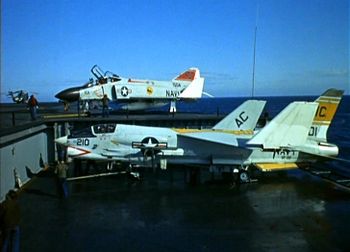 The Vought F-8 Crusader (originally F8U) was a single-engine carrier-based air superiority jet aircraft built by Vought for the United States Navy and the U.S. Marine Corps, replacing the Vought F7U Cutlass. The first F-8 prototype was ready for flight in February 1955, and was the last American fighter with guns as the primary weapon, principally serving in the Vietnam War. The RF-8 Crusader was a photo-reconnaissance development and operated longer in U.S. service than any of the fighter versions. US Naval Reserve units continued to operate the RF-8 until 1987. Apart from US Forces, the F-8 was also operated by French Aéronavale and Philippine Air Force.

This page lists all films that feature a variation of the Vought F-8 Crusader.
See also
Pages in category "Vought F-8 Crusader"
The following 28 pages are in this category, out of 28 total.