Category:Vought VE-7
Jump to navigation
Jump to search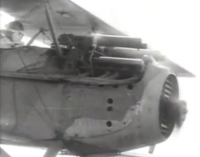 The Vought VE-7 was a biplane of the United States. First flying in 1917, it was designed as a two-seat trainer for the United States Army, then adopted by the United States Navy as its very first fighter aircraft. It was in service between 1918 and 1928.
A total of 128 Vought VE-7 have been built.
This page lists all films that feature a variation of the Vought VE-7.
See also
Pages in category "Vought VE-7"
The following 2 pages are in this category, out of 2 total.