Category:Yakovlev Yak-23
Jump to navigation
Jump to search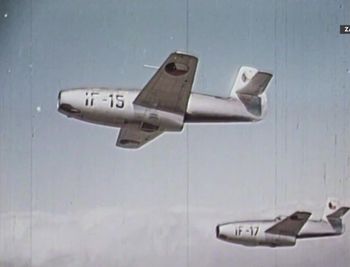 The Yak-23 was developed from the Yakovlev Yak-17 by the mount of a Klimov RD-500 turbojet (a reverse ingeneering copy of the Rolls-Royce Derwent V) increasing thrust by more 50%. Speed and range were greatly improved but the straight wing tempered the general performance which were under those of its contemporary counterpart, the swept-winged Mikoyan-Gurevich MiG-15 (respective maiden flight are 30 December 1947 for the MiG versus 8 July 1947). Despite this, all the Air Forces of the Warsaw Pact members (minus the German Democratic Republic) received a small number of the last Yakovlev built with this layout ("pod-and-boom").
A little more of 300 Yakovlev Yak-23 were built.
This page lists all films that feature a variation of the Yak-23 (or S-101 has the Czech named it).
See also
Pages in category "Yakovlev Yak-23"
The following 3 pages are in this category, out of 3 total.